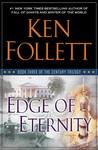 Edge of Eternity
by
Ken Follett
My rating:
4 of 5 stars
I enjoyed the final book in the series overall.
Most of the book is set in the 60's - and most of that is spent talking about Civil Rights - which unfortunately, is what I know the most about during the time period. I was really hoping for more about Vietnam - even though one of the characters goes & fights in Vietnam, there's not a lot of time spent in Vietnam & I didn't really "learn" anything or "get" any new impressions.
I was also disappointed that there was so little that took place during the 80's, and other than literally ONE sentence, nothing was mentioned about the space race / going to the moon. I knew there wasn't going to be much mentioned about it, but I thought there'd be more than one sentence, too.
I didn't like the characters as much this time around - most of them just seemed very one sided, and none of them really grew, changed, or had any character development as time went on.
Bad things of course did happen to the characters throughout the book, but overall everything just seemed to work out a little too perfectly - I would have liked to have seen at least one truly horrific thing happen to one of the characters during the course of the 1200 + page book. Yes, there's things like violence, drug abuse, etc., but you'd think in a book revolving around Civil Rights, at least one of the Civil Rights characters would have died. I don't know; maybe I'm just too negative in general this go round.
View all my reviews