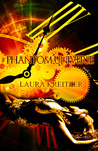 Phantom Universe
by
Laura Kreitzer
My rating:
5 of 5 stars
First, the disclosure: I received an advanced reader copy of this book to read & review on my kindle, but did not receive any compensation for the review.
Overall, I greatly enjoyed the book. I have never read a Kreitzer book before, though I have heard great things about her other books. I won't get into the plot of PU as there are already a ton of reviews out there for this book, with a lot of detail.
Summer is a very likeable character, as is the entire supporting cast. You hate the bad guys just enough. One thing that drove me nuts, throughout the book, is the repeated talk of all of the trauma, anguish, and torture Summer went through as a slave, and it's very true that she did go through a lot, including an attempted rape, but I really never understood exactly why she stopped talking. I mean, I understand what Kreitzer wrote - every time Summer talked or cried or yelled, she got whipped. But, there have been slaves for hundreds of years, who went through a hell of a lot more than Summer went through; or people today (non-slaves) who have gone through worse abuse at the hands of their own parents or family members, and they didn't stop talking. To me, if she was that badly abused that she'd stop talking, she wouldn't be mouthing words. I can sort of see the accidental giggling -- and definitely the flinching -- but I don't know, that whole thing just really bugged me throughout. And, as always with this type of book, the fact that she just magically met a wonderful guy who starts to fall in love with her, and would do anything for her, and she trusts him with no reason to... another little thing that drove me nuts.
I really wish a little bit more time was spent talking about the pirate ship. I realize this has nothing really to do with the series other than to help you know who Summer is as a character, but that part really interested me. Same with the future world - I wish we had gotten to know that world more, other than just a lot of action that took place in that world.
All of those things aside, however, I am still giving the book 5 stars. My personal rule of thumb is that I only give out "5 star reviews" to books where I really fall in love with one or more characters, and I really loved some of the minor characters in the book, and I really did like Summer & felt for her throughout.
View all my reviews